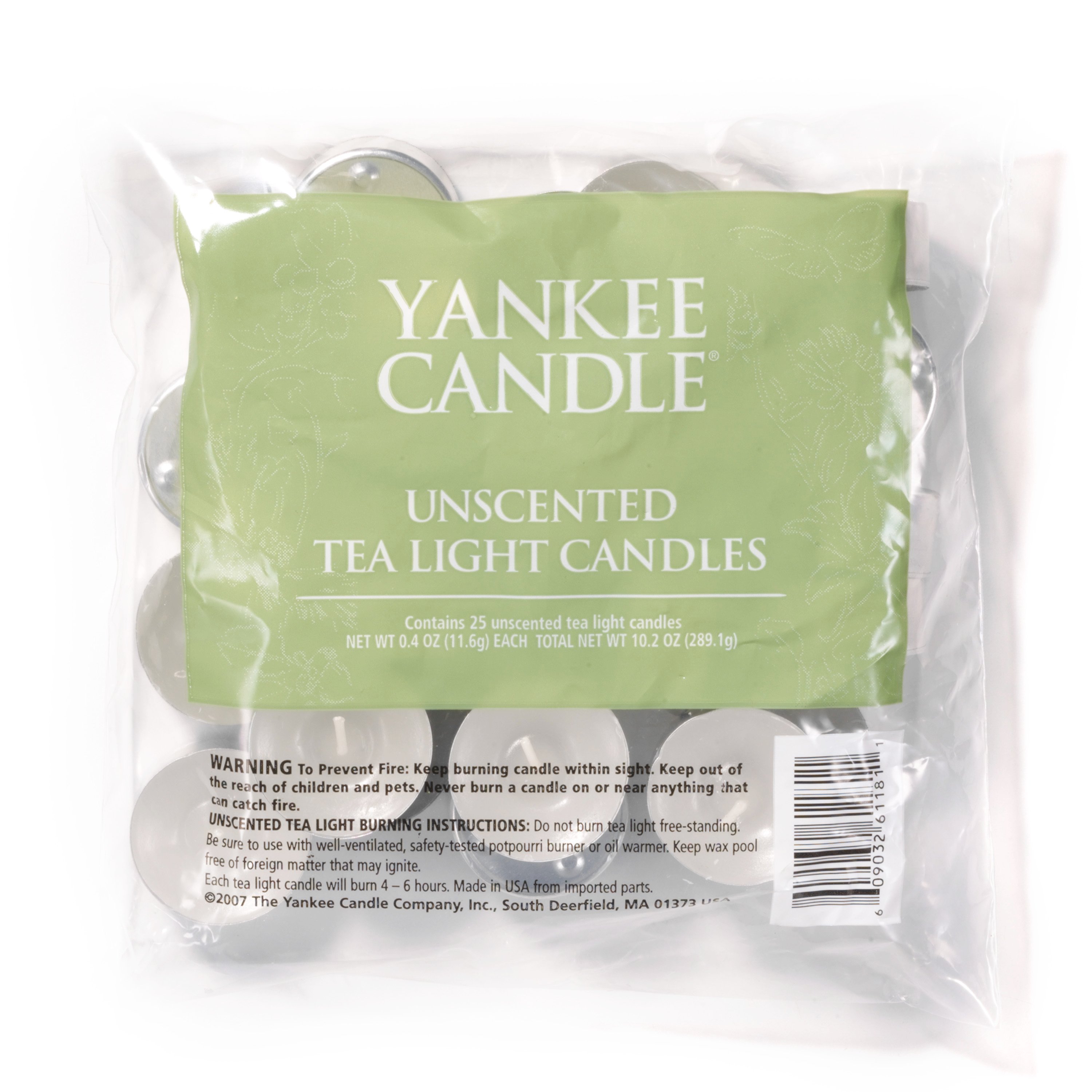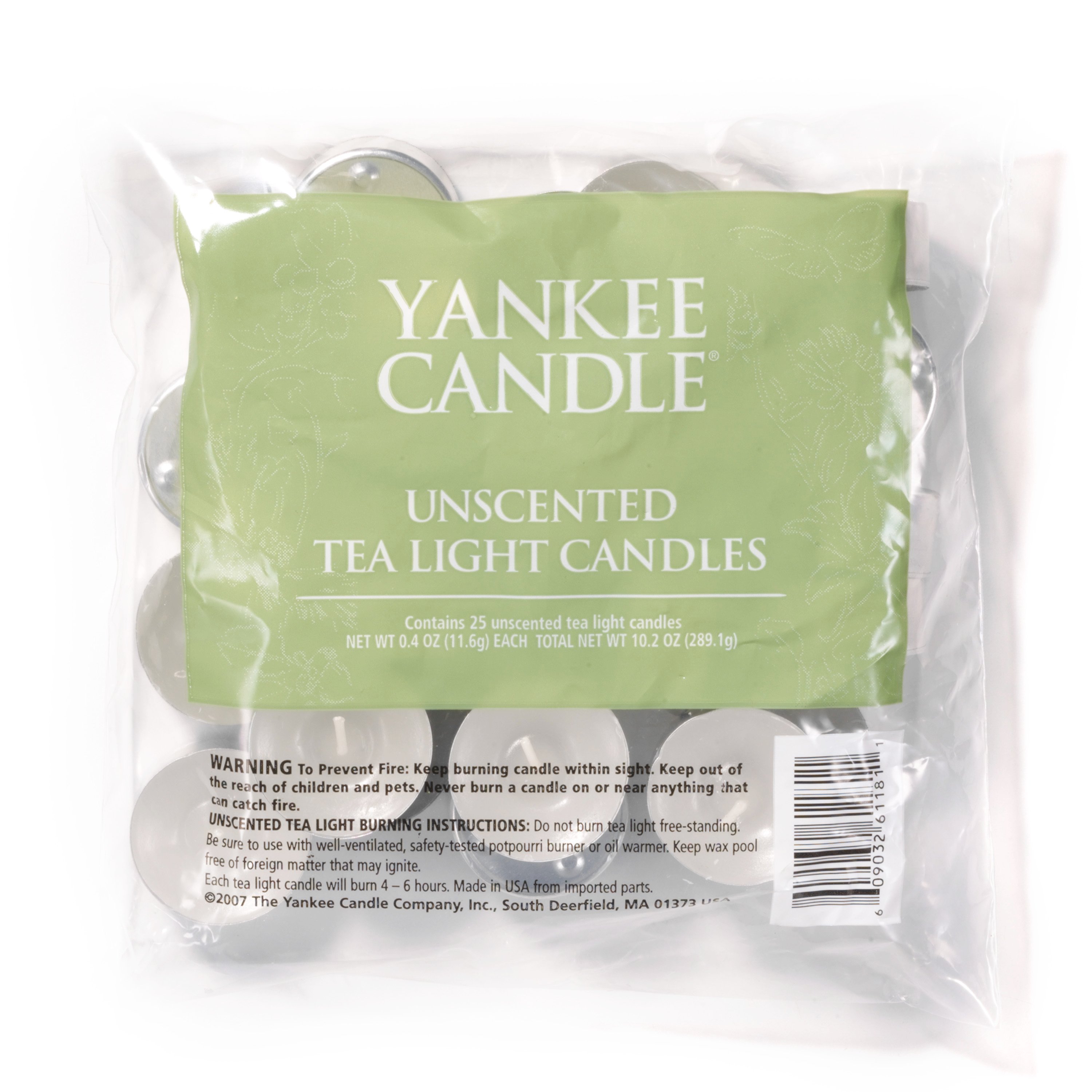 Final Sale: may not be returned or exchanged
Final Sale: may not be returned or exchanged
Want us to let you know when the item you wanted is back in stock?

FREE Standard Delivery over £30
Product Details
About this Fragrance
Perfect for use in tart warmers and home fragrance oil warmers!
Description
Tea Lights enhance with the ambiance of candlelight and add instant impact to any space when used in multiples. The wicks safely extinguish once all the wax has been consumed. A perfect match to our decorative accessories illuminated by this smallest candle.
Specifications
Burn Time:

4-6 Hours Each

Wax:

Premium-grade paraffin wax that delivers a clean, consistent burn.

Scent:

Premium quality ingredients that create distinctive true-to-life scents

Wick:

100% natural fibres, rigorously tested for the best burn possible.

Dimensions:

8.4cm x 6.1cm
Rated

5

out of

5
by
Merle
from
Buy These Instead!
I've tried many other less expensive tea lights to use around the house and in my tart warmers. I was frustrated with the cheaper variations because they would often burn out with their cheap wicks. If you compare the size of YC tea light with the bargain brands then you will realize you are getting more candle with the YC. I have some cheap ones I need to burn through but all I really want to use are my YC tea lights. These will be worth you time!
Date published: 2012-09-11
Rated

5

out of

5
by
Anonymous
from
unscented tea lights are never in stock!!!!!!!!!!!
[This review was collected as part of a promotion.] These are expensive but worth it, yet you NEVER have any in stock. Also both stores near me are closing. One in North Andover the other Methuen at the loop (that one is too small) So PLEASE I BEG YOU TO KEEP MAKING THESE and I will keep buying since I can only buy online now. Jennifer Mugavero
Date published: 2021-01-24
Rated

1

out of

5
by
NIALL1D
from
Maybe just a bad batch?
I am loyal YC customer and order very frequently. With my last order I ordered 2 bags of the tea lights. The first bag of tea lights burned only half way and YC was great in immediately sending a replacement. Then I opended the second bag, same thing -- burning only 1/2 way. Very strange and unusual and not usual YC A+ quality.
Date published: 2013-04-14
Rated

4

out of

5
by
SandyTN
from
Wish the cups were clear.
As with all of YC candles, these burn great. The only reason I didn't give them 5 stars is because the description says they are in clear plastic cups and they are not. This was my first purchase of the unscented tea lights and the reason I ordered them was because it was indicated that the cups were clear.
Date published: 2015-02-28
Rated

1

out of

5
by
Anonymous
from
Un scented tea lights in bags of 25.
These tea lights are not up to par with Yankee Candle previous high standards. The wicks on them are inferior. They are too short, preventing the tea light to burn evenly which makes them last half as long as Yankee Candle claims. They burn right down in the middle, leaving no wick left to be found and all the remaining wax to surround the wick holder in the middle. Do not buy them as they are defective.
Date published: 2021-01-17
Rated

5

out of

5
by
bkate
from
Great tea lights when you don't want fragrance!
I love these tea lights. I use them to keep my tea pot warm...yes, really as tea warmers! They burn consistently, and I can count on them for at least 5 or more hours. I've used other tea lights, but they wouldn't burn very long, and I never knew if my tea would be warm or cold when I got to it.
Date published: 2013-02-10
Rated

5

out of

5
by
grifbabe
from
The Very Best Tealights Bar None
[This review was collected as part of a promotion.] The very best tealights bar none. I've been using Yankee Candle tealights for longer than I can remember. No other brand I have purchased comes close to these tealights. I will use these YC tealights for as long as they are available.
Date published: 2021-06-12
Rated

5

out of

5
by
Val1976
from
Love!!
I have purchased the cheaper tealights from stores like Wal Mart. They don't come close to the quality of these ones. These burn a long time and have never been an issue. The cheaper ones wouldn't even be hot enough to melt the wax melt in the warmer that I was using. I would actually have to stack one on top of the other just to get them to work. These ones are never an issue. They burn hot enough and plenty long enough too. I don't buy any others. I also suggest them to everyone!
Date published: 2015-01-06
Rated

5

out of

5
by
Amy123
from
It's true! These are better!
I usually buy bulk tealights at a local craft store. I have always been curious if Yankee's unscented tealights were worth the extra money. I had to try it to believe it and I am now sold on these! They burn with a nicer flame and over two hours longer than the cheaper ones.
Date published: 2012-12-03
Rated

5

out of

5
by
Nonjen
from
Bright tealights
I like these because they burn bright and light up my accessories well. Many of the scented ones are dim and put themselves out. These have always worked well for me. I just can't keep enough in stock. I wish we could buy a larger bag at a bulk price.
Date published: 2017-02-24
Rated

5

out of

5
by
allie28
from
Always Keep A Bag on Hand
I'm glad I purchased several bags of tea lights when they were on sale. It's amazing how often I use them! They are needed for the tart burners which I use sometimes. I've learned from other YC reviewers that the tea lights often show off the great look of the votive holders better than the votives do. That surprised me. Also, if you have fragranced candles already burning, it's nice to use unscented tea lights in other candle holders too.
Date published: 2016-11-22
Rated

5

out of

5
by
Kezza10
from
Great for ever day
These are really good for everyday use thay last for ages and if your not keen on strong fragrances then these are just what you need
Date published: 2022-01-18
Rated

5

out of

5
by
madelinef
from
YC Quality, Good Value for the $
I've been using these tea lights in my tart warmer. They consistently burn cleanly and evenly - all the wax is used. Good amount of burn time, too. If you've ever used a bag of tea lights from the drug store or big box store, you need to give these a try. You'll be impressed. A note if you buy online - this product does become unavailable (sold out) from time to time, so get more than one bag if you're a frequent tea light user.
Date published: 2013-09-20
Rated

5

out of

5
by
Candlegal61
from
Long lasting tea lights!
I love the Yankee Candle unscented tea lights for my wax melts pots. I have tried to use less expensive unscented tea lights from Target or other stores but they just are such poor quality!!! I finally just decided I wasn't saving anything by buying the cheaper tea lights because they just didn't last as long as the Yankee Candle tea lights! Don't go cheap and cheat yourself! Get the good quality tea lights from Yankee Candle!
Date published: 2016-12-02
Rated

5

out of

5
by
Carol in PA
from
Unscented Tea Light Candles
[This review was collected as part of a promotion.] Great buy for a ton of unscented candles if you're looking for just some mood lighting! I light these in a glass tea light candle holder for some beautiful lighting in the evening. Inexpensive considering all the candles per bag!
Date published: 2021-05-24
Rated

5

out of

5
by
Lauren
from
A Must with no scent....
I find these candles to be the best for tart burners and they have the better height than regular tea lights at other discount stores...like WalMart & Target. Because they come in bulk, it saves your money & gives you good quality.
Date published: 2012-09-05
Rated

5

out of

5
by
Dioptical
from
Great Tealights
[This review was collected as part of a promotion.] These burn very well and work great for those times when I want to burn multiple candles and not get overwhelmed with fragrance
Date published: 2020-11-23
Rated

5

out of

5
by
Lynn53
from
Great for just lighting up the area
Ii love these unscented tea lights when you don't want to use the scented ones in all your holders. They burn long and are priced right.
Date published: 2019-02-26
Rated

5

out of

5
by
Roxy13
from
Long Lasting Burn Time
Out of desperation I've bought other tea lights at local stores and they don't burn nearly as long as these. Love these!
Date published: 2017-11-24
Rated

4

out of

5
by
MrsWatts
from
Didn't Quite Make It To 6 Hours
While they do last longer than A LOT of other brands sadly they didnt burn for 6 hrs. I'm getting 5 hours out of them.
Date published: 2015-07-06
Rated

5

out of

5
by
kelrrific
from
Perfect Tart Burner
The Yankee tealights are the perfect tart burners. After trying other unscented tealights, I use nothing else but Yankee.
Date published: 2018-03-25
Rated

5

out of

5
by
JoJo
from
This product is extraordinary
I used to use the cheap tea lights then while shopping in the Yankee shop I saw the unscented tea lights and decided to try. I was hooked. These burn for so much longer so even though they cost more than the generic tea lights, you are actually saving money because they burn much longer. I will never be without these on stock in my home.
Date published: 2012-07-20
Rated

4

out of

5
by
No Nickname Available
from
Nice candles
I've been searching for better tea light candles - ones that will last a little longer - and these are worth the extra cost. I'd give them 5 stars, but they've now been out of stock for several weeks - so I now need to find another source, because I'm out. Why good quality unscented tea lights are such a rare commodity is beyond me.
Date published: 2020-01-19
Rated

5

out of

5
by
Debbie1
from
I am now Sold!
After reading the reviews I decided to order a couple of bags. Once I received them I used one immediately with one of my tarts and they most certainly live up to their reviews! These tea lights burn GREAT and burn very long. Because of this the scent of the tart lasts a lot longer, which is a win, win for the tea light and tart.
Date published: 2012-08-21
Rated

1

out of

5
by
Thelaurab
from
Dollar store quality
[This review was collected as part of a promotion.] Not sure what happened but if these lasted 2 hours I'd be surprised. Thought maybe there were a couple of duds... very surprised as the scented ones are fantastic. They burn out with1/2 wax left
Date published: 2020-12-31
Rated

5

out of

5
by
crazysexycool
from
Best tealights ever
I have purchased other tealights and no other is comparable to Yankee Candle tealights. I will not buy any other brand other than yours!
Date published: 2017-03-02
Rated

5

out of

5
by
boatgirl
from
Best unscented tea lights
Like other reviewers, I have tried less expensive tea lights, and these have proved to be the best. I use them for my Tarts Wax warmers, and also in some outdoor tea light holders. They burn evenly and there is no waste!
Date published: 2013-07-04
Rated

4

out of

5
by
Emma2011
from
unscented tarts
Yankee candle tarts are the best and most effective tealights when burning tarts. The wax tart burns evenly when using the Yankee candle tealights. I wish there were more in a bag and they were a little less expensive.
Date published: 2012-07-19
Rated

2

out of

5
by
BrookLynn
from
Wicks too short
While I like that the unscented tea lights can burn up to 4 hours, I feel the wicks are too short. when trying to use the tealights w/a tart warmer, the wick/flame is not strong enough to actually melt the tarts.
Date published: 2013-04-30
Rated

5

out of

5
by
MSTONYA
from
Best Tea Light Candles Ever!!!!
This Tea Light Candles are Incredible. They last for a really long time. The ones I've purchased from other companies got too hot and burned out really fast. Yankee Candle's are the BEST!!!!!
Date published: 2015-03-26
bvseo_sdk, dw_cartridge, 18.2.0, p_sdk_3.2.0
CLOUD, getReviews, 0ms
reviews, product
product-detail-view
oos-pdp