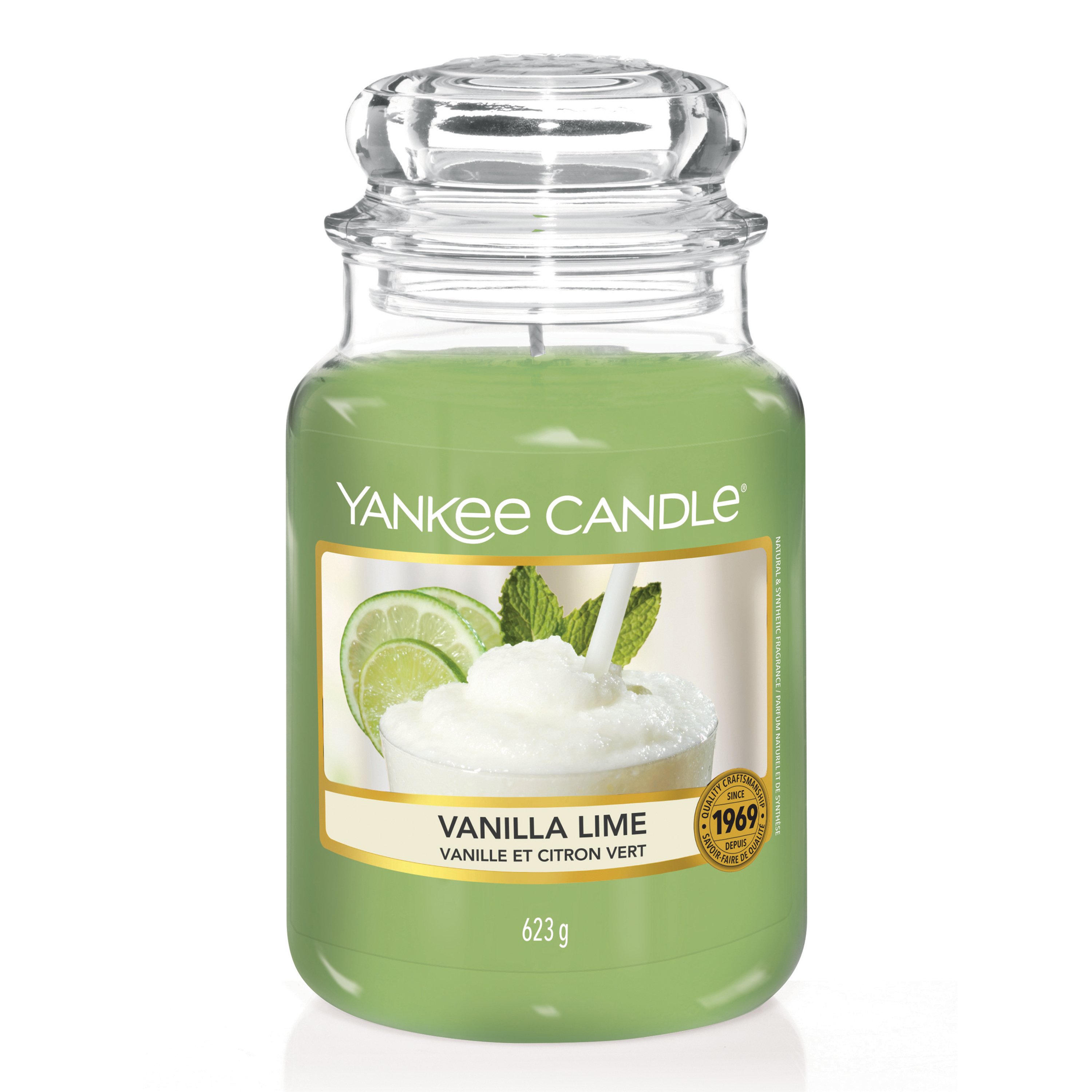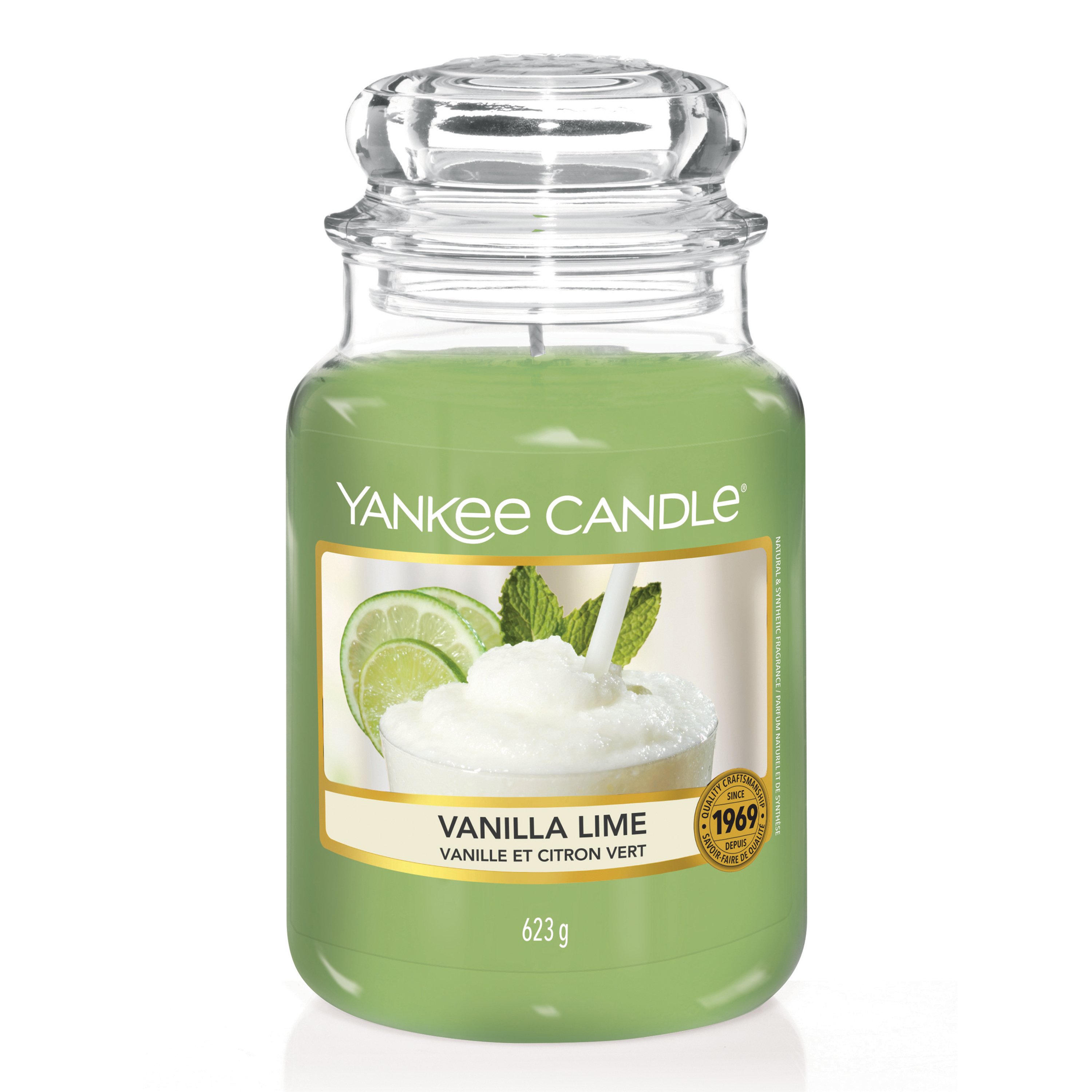 Spend £35 on Candles and get a Medium Jar for £5
Available on Yankeecandle.co.uk. Selected lines only. Not available to use in conjunction with any other offer. Full T&C apply.
Final Sale: may not be returned or exchanged
Spend £35 on Candles and get a Medium Jar for £5
Available on Yankeecandle.co.uk. Selected lines only. Not available to use in conjunction with any other offer. Full T&C apply.
Final Sale: may not be returned or exchanged
This style is not currently available for shipping.
Want us to let you know when the item you wanted is back in stock?

FREE Standard Delivery over £30
Product Details
About this Fragrance
Smooth and refreshing aromas of rich, creamy vanilla layered with sweet cane sugar and a zesty lime twist
This is a Sweet & Spicy fragrance.
Description
Our largest Jar Candle provides up to 150 hours of soothing fragrance designed to create a welcoming home for family and friends. The iconic Jar shape is a symbol of our more than 50-year commitment to creating the world's finest candles. Convenient and easy to use, each candle is made with premium-grade paraffin wax and the finest quality ingredients. We select the ideal natural-fibre wick for each fragrance to ensure the best possible burn.
Specifications
Wax:

Premium-grade paraffin wax that delivers a clean, consistent burn.

Scent:

Premium quality ingredients that create distinctive true-to-life scents

Vessel:

Classic glass apothecary jar with glass dome lid.

Wick:

100% natural fibres, rigorously tested for the best burn possible.

Dimensions:

10.7cm x 16.8cm
Safety Information
WARNING
Limonene, Citral, Cyclohexene, 1-methyl-4-(1-methylethylidene)-, Linalyl acetate, Coumarin.
May cause an allergic skin reaction.
Rated

5

out of

5
by
Mattzilla
from
The scent is everything
Vanilla and lime are 2 of the best scents in life and to have them come together in a candle is the best thing ever. I LOVE this candle. It almost smells like key lime pie which is my favorite dessert.
Date published: 2019-02-14
Rated

5

out of

5
by
DCNY
from
One of my favorites!
This is one of my favorite scents and now it's hard to find and/or out of stock. Please bring it back!
Date published: 2019-03-24
Rated

2

out of

5
by
Tikishmiki
from
Just not what I expected
Somehow, I was disappointed with this candle. I had high hopes based on the fab reviews it got. Yes, it has a medium to large throw. Yes, I could smell notes that combined to make a formulation that is slightly soapy, creamy and soft yet fresh. Yes, it's not overly sweet and is a beautiful colour, has great marbling and a gentle fragrance. However, every time I lit this jar and try as I might, I couldn't get around my first impression that it lacked freshness. While I personally find the vanilla in equal proportions with the lime, the warmth of the vanilla takes over making the blend less fresh. Perhaps I was hoping more for a sparkling granita effect. In any case, this was not the smell I was going for and happily, my large jar quickly found it's way to a more appreciative owner.
Date published: 2015-02-07
Rated

4

out of

5
by
Dee7
from
nice scent and throw
A nice refreshing scent with a decent throw. Most of my old faves are no longer here-----and the new ones just don't measure up. I hesitate writing reviews and reading them! because everyone has different scent preferences and different places where the they put the candles! I have been disappointed with positive reviews and happy with bad reviews of certain scents. Just try what you like!!
Date published: 2016-12-27
Rated

5

out of

5
by
MRSMAC
from
Limesicle-Yum!
This candle reminds me of the dreamsicles that I used to eat as a kid except it is with a lime popsicle not the orange. It is a very smooth and delicious fragrance. I am burning it with other fruit scents like pineapple, citrus scents, Bahama breeze etc..Lovely scent for spring and summer. I really like the vanilla that is added because it balances the lime and it does NOT smell like a house cleaner. That is always a concern with the citrus scented candles. It had a medium scent throw and burned well.
Date published: 2015-03-10
Rated

5

out of

5
by
DazzlingPepper
from
Get Vanilla Lime and a drink to go with it!
[This review was collected as part of a promotion.] I really don't like anything vanilla scented, but this vanilla and lime rock together! This candle makes me think of sitting on a beach, sippin' a cold drink ... why, of course with a twist of lime! Amazing scent, and I've had several jars of this one over the years and I will keep buying them for as long as they remain available. Tasty, fun, oh so good smelling. Big YES for this one!!
Date published: 2021-11-17
Rated

5

out of

5
by
RunningSchmidt
from
Wow!!!
I don't usually write reviews but this scent deserves this. I honestly ordered this on a whim based off of the reviews/ratings. This scent is perfect, it is not overpowering but it is so clean smelling and a perfect kitchen spring/summer candle or honestly any room but I love it in the kitchen/den.
Date published: 2019-04-04
Rated

5

out of

5
by
Queenie 2
from
Mouthwatering fragra
Vanilla Lime is a real old favourite in our house, it was one of the first large Yankee Candle jars I purchased many years ago. The scent is bright, zesty fresh lime with a sweet sugary vanilla in its base. On burning you get a fairly strong hit of fragrance, at it's best when the wax has reached the side of the jar fully. It's a good consistent candle that keeps its fragrance until the bottom of the jar. It's a nice summer scent that gets complemented by visitors to my home.
Date published: 2020-08-13
Rated

5

out of

5
by
PamZ
from
Nicely Scented.
This is a wonderful scent to lighten the mood. It is slightly sweet and slightly citrus and definitely not over powering.
Date published: 2019-04-02
Rated

3

out of

5
by
Laugette
from
Vanilla fresh
I've enjoyed this fragrance in my kitchen. Imagine cutting a lime, that fresh sugary scent. Then imagine pure vanilla extract while baking sugar cookies. That warmth. This is how I can best describe it. The margarita photo on the candle describes the flavor. I feel it is more key lime pie flavor. The only flaw is that my kitchen area has vaulted ceilings and is very large so the scent dissipates easily. In a small room I feel it would capture the strength of the scent much better. Never the less, it is a fresh food scent. 3 stars due to lack of strength.
Date published: 2015-03-17
Rated

5

out of

5
by
Kar1
from
Keylime
[This review was collected as part of a promotion.] Always a favorite. It makes me think of keylime pie without being overwhelmed
Date published: 2021-10-14
Rated

5

out of

5
by
ladylou206
from
Scrumptious!
I got the Vanilla Lime Candle as a Christmas gift and as soon as I had a sniff I had to light it! The scent actually makes my mouth water! It is like a delicious citrus ice-cream, zingy and fresh with a creamy vanilla overtone. Makes my whole apartment smell delicious and the burning time is amazing, I have had many hours of scent and not even quarter way through yet. Would certainly recommend :)
Date published: 2014-04-30
Rated

5

out of

5
by
Lindsay1215
from
Amazing
Perfect balance of fruity and creamy. Zesty and fresh yet sweet and creamy. Recommend for anyone who likes fruit scent or vanilla type scents. Smells great if u burn with black cherry
Date published: 2013-01-24
Rated

4

out of

5
by
Anonymous
from
OK-Good
[This review was collected as part of a promotion.] Nice scent once it gets going. Not very strong, just enough. Rated a 4 because on the first burn, the smell was "odd". Can't say what it was, maybe the lime, but it just didn't appeal to me at all! I had purchased 4 (wanted some green around for St. Pat's day) and really thought I was going to take a loss on this one. However, gave it a second try and glad I did. The scent seemed to mellow out and come together, light but nice. Not an all-time favorite, but good. Would purchase again.
Date published: 2022-03-06
Rated

5

out of

5
by
LisaMKae
from
A Sweet Citrus Delight!
I've tried numerous scents of Yankee Candles over the years, and the Vanilla Lime is by far the best! I keep several on hand to give out as gifts to friends. Everyone loves Yankee Candle gifts, but whenever I give out the Vanilla Lime, I always get comments on it from the people I've given it to...them saying it's the best smelling candle they've every had! I was sad to see that my BBB store discontinued this particular scent recently. But if they hadn't --- I'd never have discovered the great customer service that Yankeecandle.com has provided! Happy Accident You certainly will not be dissatisfied with this classic Vanilla with a twist of lime scent. Complements each other just perfectly!!
Date published: 2016-01-18
Rated

5

out of

5
by
bibmark226
from
Great scent, great throw
A favorite of mine that fills a very large room. First it's lime, then the vanilla sneaks in. A great combination of scents.
Date published: 2017-09-27
Rated

3

out of

5
by
Ruffian
from
Five o'clock
On cold sniff smells like a margarita. Sweet sugary and tart lime. Medium throw. YC - make stronger please.
Date published: 2015-01-08
Rated

5

out of

5
by
Huey8
from
Love this scent
Bought three candles of this scent to put one upstairs and one down stairs, one extra.
Date published: 2019-03-24
Rated

5

out of

5
by
DJ Davis
from
Clean and Fresh
[This review was collected as part of a promotion.] This is a really fresh and clean smell without being too overpoweringly vanilla, which I can't stand. The citrus of the lime blends perfectly with the vanilla, toning it down just enough to make it seem like you're inhaling a nice beachy drink!
Date published: 2022-01-04
Rated

5

out of

5
by
Dan708
from
Smells Amazing
I received this as a present and i love it. It has such a nice smell, and isn't too overpowering. Has a really nice presentation and is really good quality. It doesn't burn too quickly either unlike others I have had. Great when i have friends over or when i'm working on my own at my desk.
Date published: 2016-01-05
Rated

4

out of

5
by
EmileeJane
from
sweet key lime!
this reminds me of key lime pie! it does have more a cream note then a zesty lime! But this candle was a great burn until the last 1/4 of the candle the wicks numbed out :( but i got all i wanted out of this candle so that where 4/5 star comes in. the throw was 8/10 so not a bad candle!!
Date published: 2016-09-10
Rated

5

out of

5
by
jonski
from
love this smell glad they brought it back
love the sell of a southern vacation very refreshing
Date published: 2019-03-29
Rated

5

out of

5
by
Gdp82
from
Glad I finally tried it!
This scent has been around for many years and I always bypassed it because I'm not a vanilla fan. But lately I've been really into lime scents and this one is delightful. I love the vanilla in it because it's not too overpowering it's a great balance. Great throw too.
Date published: 2018-03-06
Rated

5

out of

5
by
YankeeLover85
from
One of my favorites!
You know those scents that you sniff in the store and immediately love, but you don't buy right away? But you love it so much, and you keep going back to smell it every chance you get until you finally break down and get it. That's how I was with Vanilla Lime. Something about this scent is just so irresistible to me. It really is the PERFECT blend of lime and vanilla. Yankee Candle really nailed it. I love burning it, and I know I will buy it repeatedly. It has a great throw, and it is definitely a favorite of mine.
Date published: 2013-05-18
Rated

5

out of

5
by
SooNoo
from
Classic Pariffin Purer PERFECTION!!
[This review was collected as part of a promotion.] Tea Lights I MISS YOU / YOU ARE MADE OF PARIFFIN AND PERFECTLY TRANSMIT TRULY FOODLIKE SCENTED FLAVORFULNESS AND FIT PERFECTLY IN MULTI-TIER BOX HOLDERS like my Twilight Shilouette 4 tier levels of tealight holders in its tree scenery box ..how do I do it without delicious scented green tree light tea lights ... Please dont stop Classic Vanilla Lime Pariffin its easy to clean not forever soy oily slimey to clean up nor heavy strange soy wax after affect.. Pariffin is perfect and Vanilla Lime is perfectly balanced mellow as equal to refreshing, you can dine to pariffin Vanilla Lime eating beside it any dish at all no odd clash at your candlelit soirees' ;) !! L!!
Date published: 2021-05-26
Rated

5

out of

5
by
Mama57
from
Beautiful color
[This review was collected as part of a promotion.] I buy this candle fragrance all the time.I never want to run out.I start to burn it in March and use it all thru spring and summer.It smells amazing! Never stop making this fragrance!
Date published: 2020-02-12
Rated

4

out of

5
by
Violante
from
Delicious
Truly delicious foody scent, a little on the subtle side but gorgeous nonetheless. Lasted several weeks when burned of an evening, nice one to have in the kitchen and living room. No problems with wax wastage when finished.
Date published: 2015-11-08
Rated

5

out of

5
by
Taylor
from
My all-time FAVORITE!
This is one of the first of many Yankee Candles I have purchased. I am extremely indecisive when it comes to choosing my candles and I have tons of favorites but I have to say that Vanilla Lime is my absolute favorite and I cried the day I burned the last of it! It is so strong, relaxing, and absolutely perfect! I recommend this to anyone looking for a sweet summery scent! I burn it all year round but I NEED this in my summer candle line-up (along with Coconut Bay which might be my actual all-time favorite)
Date published: 2013-12-30
Rated

4

out of

5
by
Freya
from
Amazing scent, but a rather weak throw
This is one of my all-time favorites, a perfect blend of vanilla and lime (although a bit heavy on the vanilla), but unfortunatelly the throw is rather weak. Don't get me wrong, it does fill up an average room, but not much more than that. Other than that, I love everything about it and I'll continue buying it. So if you're into fresh yet more subtle scents, this one is definitely worth a try!
Date published: 2014-03-27
Rated

5

out of

5
by
mamacancook
from
The Absolute Best!!!
I've been buying this candle since it came out several years ago. This is BY FAR the most true to natural scent Yankee Candle makes. It's clean and inviting and has a very good "throw" of scent in even a large room. Love the fact that it even works at a dinner party because the scent is food compatible. Fresh, true citrus scent with warm overtones of vanilla - pleasant but not overpowering. We use this in the den where our dogs sleep if they are a bit "fragrant" from being outside. Works wonders!
Date published: 2015-08-04
bvseo_sdk, dw_cartridge, 18.2.0, p_sdk_3.2.0
CLOUD, getReviews, 0ms
reviews, product
product-detail-view
oos-pdp